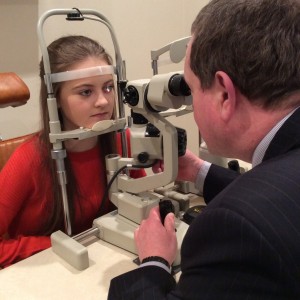 Michael and Wendy Coates are a husband and wife team providing eye care at two Practices in South East Belfast and Comber, County Down.
Michael graduated from Manchester University in 1985 and worked in Belfast for three years before opening the Saintfield Road Practice in May 1988. For the past 28 years he has provided family eye care to all generations, examining eyes, supplying spectacles, fitting contact lenses, providing home visits and repairing spectacles. Part of the service involves giving advice to a wide range of patients with varying ocular problems and demands.
Wendy graduated from City University, London in 1986 and worked in Belfast for a number of years until she joined the business when the Comber Practice was opened in 1994, again providing a high standard of care and advice to the local community.
There are often many ways to meet patients' visual needs and our aim is to excel at patient care. We strive to provide the most suitable products and services in a friendly, professional environment, arriving at the best solution to suit you and your lifestyle.
We firmly believe in the continuity of care and are proud to have been looking after the eye care needs of our numerous, long term, existing patients over many years. New patients with new challenges are always welcome.
As an independent practice we are able to choose products from a wide range of manufacturers and suppliers to provide the most suitable spectacles and contact lenses for you.
Our team are always happy to help, so please feel free to call in or telephone us.